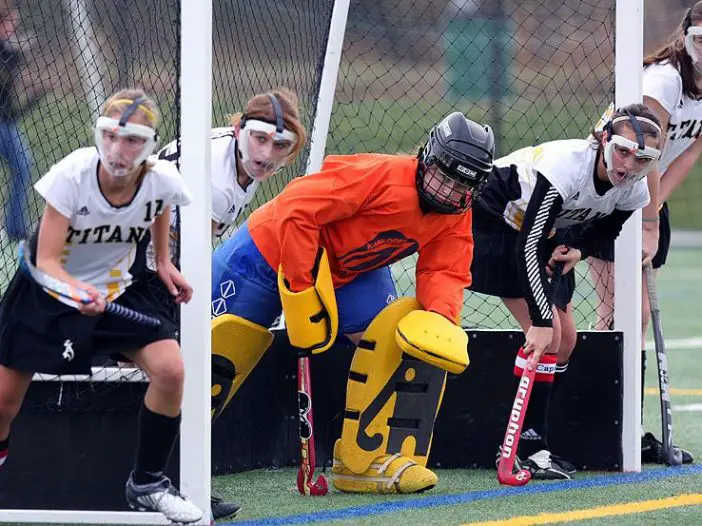 If you have watched any high level hockey matches in recent years, or even played at a reasonable level you may be aware of full face masks. Whilst there are currently no specific regulations that requires club players to wear a full face mask in the UK game there is certainly an argument that they should be worn under certain circumstances. Hockey is a dangerous game, and field hockey face masks can help to prevent serious injury.
Why Wear A Field Hockey Face Mask?
Field hockey masks are worn by the defending team for short corner routines. Short, or penalty corners are one of the more dangerous aspects of field hockey. This is because four defending players plus the goalkeeper start on the goal-line as the ball is injected to the top of the 'D'. Most often two defenders stay on the posts, whilst the other two defenders race out to chase down the player with the ball as he attempts to shoot. This therefore means that all defenders will likely end up between the attacker and the goal as a shot is taken. 
Once the ball has been injected, then the first solid strike on goal (i.e a shot with a backswing) must not be above the height of the backboard in the goal. This means that a hard hit shot would not be at risk of reaching head height. However, deflections can easily occur – either accidental from a defenders stick, or deliberately from an attacker trying to tip the ball in. As a result, the ball could then end up at a height that may be dangerous for defending players. 
At top level hockey play, many attacking short corners will make use of a drag flick, which can reach speeds of up to 90 miles per hour. As there is no backswing and the ball is swept and not struck, a drag flick has no limitation on height. This means that a flick could easily head towards a defender on the post at, or around, head height. 
With many unknowns and the chance of serious injury it is no wonder that many players choose to wear hockey face masks to protect themselves. Although not a requirement, it is recommended that players at all levels consider using a full face mask to protect themselves. Deflections, accidental mishits and poorly executed drag flicks can all occur at lower levels of play.
Face masks greatly reduce the damage that will be caused if a strike makes contact with a players face. This is why they are worn during penalty corner routines. They are usually then discarded and thrown behind the goal once play has broken down or the ball has moved from a dangerous shooting position.
Given that the masks can offer such high levels of protection, you may wonder why they are not worn throughout the game?There are a number of reasons why it is not practical to wear a hockey face mask through the game. Whilst these masks are fine to be worn for a short period of time, wearing them for prolonged periods in open play could well result in the visor fogging. They may also muffle shouting a little. This is not a problem during a short corner as communication is being made over a much shorter area, but they may make it tricky to communicate from one end of the pitch to the other. Likewise, whilst a slightly reduced field of vision at a short corner is a small price to pay for safety, it could be awkward if wearing for the whole match. All in all, coupled with the fact that there is less direct chance of danger from open play, there is no real need to wear a face mask at times other than short corners. In fact, the FIH (International Hockey Board) regulations state that no outfield player is permitted to wear protective headgear except during a short corner.
What Makes A Good Hockey Face Mask?
So we have touched above on some of the difficulties with face masks and some of the challenges to be overcome, which gives us an idea of some of the factors which make for a good field hockey face mask.
Good Ventilation
To ensure that breathing is not impaired and also to prevent the mask from fogging up when breathing, a good face mask should have adequate and appropriately positioned ventilation.
Safety
The best masks will offer the highest level of protection. It protect all of the key areas of the face from direct damage – including the forehead, chin, eyes and mouth. It also needs to be shatterproof so that it does not harm the wearer in the event of an impact. It should also have some degree of shock absorption so that the impact is not simply transferred from the mask directly to the face.
Comfort
Whilst you may only be wearing the mask for a few minutes at a time, you don't want to be stuck having to wear something that is uncomfortable.
Easy to get on and off
A good field hockey face mask should be easy to get on but also easy and quick to remove. As a player you will want to discard the mask at the earliest available opportunity once the short corner has broken down, so it will be no good if it is tricky to remove.
The Best Field Hockey Masks
There are currently only a handful of field hockey masks on the market that are worthy of note, so we have included our favourites here, from three of the top hockey brands.
Our Top Pick
The TK Total One AFX 1.1 face mask is made of transparent PVC. It offers full face protection and has soft interior padding for comfort and shock absorption. The adjustable straps mean that one size fits all. It provides good visibility and a decent level of comfort.
Runner Up
Grays are a well known and established brand for hockey equipment. Here they have made a good quality and hardwearing face mask that can withstand being thrown down. It has adjustable straps meaning it is a suitable hockey face mask for juniors. It also has foam padding and is made from a high impact resistant polycarbonate material. It may fog a little and will pickup the occasional scratch, but will serve its purpose if needed.
Best For Colour Choice
The TK Total Three 3.1 hockey face mask comes in a range of different colours, which makes it a great face mask for women as well as for men. It has an adjustable strap, tough plastic outer and foam interior for both safety and comfort. The transparent plastic will allow for a high level of visibility whilst keeping you protected at all times.
Highest Level Of Protection
The OBO OOP Faceoff Steel Mask is our final field hockey face mask and unlike the other masks featured, it is 'open' with a steel cage for unbeatable protection alongside superior vision. It offers protection around the head, leaves the ears open for top communication, and it easy to get on and off quickly.
Conclusions
All four of the products we have listed above are high quality field hockey face masks and you will not go wrong with any of them. They are all constructed in a similar way and from similar, impact resistant materials. However, we found the TK AFX to have a slight edge in terms of visibility and comfort, with the Grays mask a close second. The OBO OOP Faceoff mask offers a higher level of coverage around the head with slightly more contouring than some of the others and with steel reinforcement, so is good if you are after the highest level of protection. We liked the colour choice on the TK Total Three 3.1 mask which also provides a high level of protection.