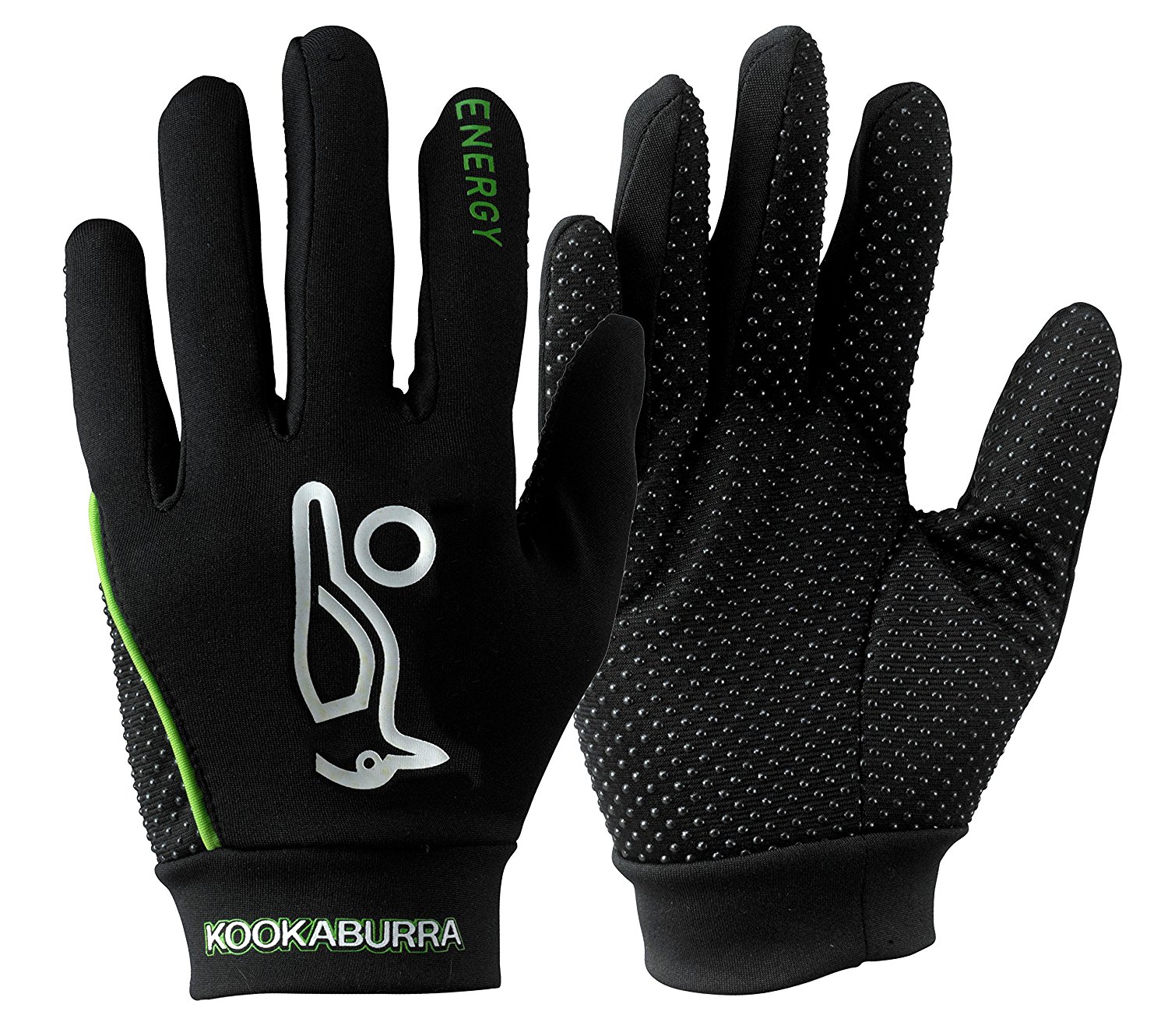 Although field hockey gloves are not mandatory in the game a large number of players choose to wear them. In this article we explore the different types of field hockey gloves, the reasons players wear them and offer some recommendations that hopefully will enable you to choose the right or most appropriate gloves for you, based on your requirements and your playing position. The information in this guide is up to date as of 2020 and is updated on a regular basis as new equipment becomes available.
Why Wear Field Hockey Gloves?
The most obvious, and perhaps the best reason for wearing a hockey glove is for safety. The game of hockey can be quite dangerous at times and outfield players have little in the way of protection, so it makes sense to utilise as best as possible to few pieces of protection that are available. Anyone who has played competitive hockey at any level will likely have seen or experienced a ball or stick hitting a hand – which can be incredibly painful, especially in cold winter weather! Wearing a glove can help to protect your hand from this in both outfield play and from penalty corners and therefore help to prevent injuries which are entirely avoidable.
In addition, knowing that you have a level of protection afforded by a glove might make you less fearful of going for a 50-50 ball or challenge and so can help to improve your game. Hand protection does also ensure that you can get your hand really low to the ground without grazing your knuckles on astro turf – especially useful if playing on sand based pitches. Knowing that you can put your knuckles right to the floor without scratching them is likely to ensure that you don't let any loose balls under your stick and will give you more confidence in stopping the ball.
One other reason for wearing a hockey glove is to help keep your hands warm during cold weekend matches or late evening training sessions. No doubt you have experienced the shockwaves sent through your hands when striking a hard ball with cold hands – keeping your hands warm can help to reduce this and retain a greater level of feeling in your fingers and as a result give a greater level of control.
Different Types of Gloves
As well as multiple different brands of hockey glove, there are also a number of different types of glove available. Which is best suited to you is quite likely to be dependent on your specific requirements. We will advise on our recommendations for different types of gloves, as well as the best hockey gloves for women and the best junior hockey gloves.
Skin / No Protection Gloves / Weather Gloves
At the lower end of the market in terms of protection are the cold weather/skinfit glove types. These are available from a number of specific hockey providers and you can find them in full finger or fingerless styles. They really only offer protection from the cold, with no padding to protect you from impact injuries, although there are a number of options which do have gel padding or similar and which therefore do offer some protection. Hockey specific gloves of this variety will often have some sort of grip on the palms, to assist in gripping your stick. The obvious downside is the lack of protection, but these are worth considering if you feel the cold and like to retain a high level of movement in your hand – these gloves are obviously a lot less restrictive than padded varieties.
You surely know the feeling – it's a cold day and you strike a hard ball into the D, only to feel vibrations from the hit running all the way up your arms. Or when it is pouring with rain and you are frantically trying to keep your stick in your hands every time you make a tackle. These gloves are ideal for these situations. They are tight fitting gloves with a grippy palm. There is no impact protection with these gloves, but they will protect you from the elements pretty well.
This is the BYTE version of the 'weather protect' gloves. As with the Grays Skinful, they don't have any padding protection but are warm and grippy to help in both cold and wet weather. They come at a similar price to the Grays and there is not much to separate the two – they are both fit for the purpose and which you choose may well just come down to brand loyalty!
If you're looking for a glove that will offer a combination of weather protection and impact protection, the G500 is a good choice. It contains an absorbing gel within the glove which will protect against light hits from sticks and balls. It won't offer the same level of protection as some of the more substantial gloves, but it is less bulky and leaves you with a good level of control. This also utilises Grays palm grip so you can keep hold of your stick!
Knuckle Gloves
When we originally wrote this article a number of years back, knuckle gloves were quite popular. These were the cheapest gloves that offered any reasonable level of protection, but have since fallen out of favour and many hockey equipment manufacturers have removed these gloves from their ranges. These types of gloves often had four finger slots (no thumb) and a pad to protect the knuckle. Although it offered some protection, it was a lot less than some of the more substantial gloves and I suspect concerns over safety have encouraged more players to move to gloves offering more complete protection and therefore reduced demand in knuckle gloves.
Fingerless – No Thumb
This takes things a step further in terms of protection. These are gloves which strap around your wrist and offer padded protection to the entire back of the left, stick hand. These gloves are fingerless and many versions don't have padding for the thumb, but rather have a hole in the palm for the thumb. There are some variations which offer protection to your lower thumb.
This glove is an updated version of the Grays Anatomic glove. It is now constructed with lycra to give it greater flexibility for better stick handling. The foam padding has also been increased to now include padding for the knuckles, which wasn't included on the previous version. In addition, the palm has been designed to provide good grip in all weather.
This Byte Knuckle Glove provides a little more protection than the older style knuckle gloves mentioned above. It is a fingerless glove with a hard shell covering the knuckles. Protection is somewhat limited though as there is no padding offered to the fingers or thumb. The glove does cover the lower finger and thumb though so it will protect against possible abrasions from contact with astro turf. All in all, a decent glove with reasonable protection and enough flexibility to allow for good grip and stick control.
The Kookaburra Xenon glove is similar to the BYTE glove mentioned above. The hard shell covers and gives protection to the knuckles but as a fingerless glove protection is limited on the fingers to cover against possible abrasion injuries to the lower fingers. Broadly speaking, this would be a suitable glove for midfield or attacking players who are making fewer hard tackles or blocks.
This is our top pick of the fingerless gloves. It has an open palm for good stick control and grip. This also means that it is lightweight. Where it truly excels is the level of protection offered. Like the other fingerless gloves mentioned above it does have a hard shell on the back of the hand. However, in addition to this, it has the same hard shell protection on the fingers as well. This means the Adidas Hockey OD glove offers a higher level of protection than its competitors above.
Full Padded Glove
As suggested by the name, the highest level of protection afforded from a field hockey glove comes in the form of full hand and finger protection, from a fully padded left hand glove. You will be sacrificing a little mobility in your stick hand by wearing a full glove but you're less likely to take injuries if the ball or a stick makes contact with your hand, so you will need to make the judgement call.
As with the other categories, Grays really are one of the top manufacturers of hockey gloves and this full finger glove is no exception. This glove is comfortable and flexible enough that you will be able to keep control, whilst offering a top level of protection. Great choice for defending players in particular.
A good glove with substantial protection. This glove is really designed for defenders given the level of protection offered to the entire fingers and thumb. However, it is lightweight as the protection comes from a dense foam. The palm has printed grip which will help with stick control. If you're looking for good level of protection then this is a really good option.
Right Hand Glove
It is far more common for players to wear a glove on their left hand, and their left hand only. Your stick hand is far more likely to be in the way of an opponent's stick, or a raised ball. However, some players might want to consider gloves on either hand. The options for right hand gloves may be more restricted, but you can find most of the above gloves available for the right hand also. Some fully padded gloves may also be found sold as a pair. Not all gloves are available as both right and left hand gloves, and if you're after a right hand glove, you will most likely want to think about matching your left hand glove. We're not offering reviews here as they will be much the same as the above reviews, where a right hand option exists. However, check out this link to browse right hand gloves. 
Field Hockey Gloves Sizing
It's not always easy to pick the right size hockey glove, with many different styles and different brands. We always advise checking for size guides and information before purchasing, to make sure that you get the right size. To help out the size guide for Grays gloves is shown below. 
Grays Hockey Glove Size Guide
| Glove Size | Hand Width (excluding thumb) |
| --- | --- |
| XXXS | 70mm |
| XXS | 75mm |
| XS | 80mm |
| S | 85mm |
| M | 90mm |
| L | 95mm |
| XL | 100mm |
Best Field Hockey Gloves for Women
The requirements for hockey gloves are the same for both women and men. All players, regardless of gender are looking for protection, either from injury or from weather. However, different colours and styles may be more appealing for one gender or another. Most of the gloves available on the market are unisex though so our recommendations for women would be the same as the above. Here are a few different colour choices which may be preferable for female players.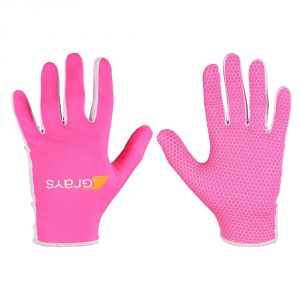 Best Field Hockey Gloves for Juniors
Below is our list of the best junior hockey gloves. Generally speaking there is less playing experience at the junior level. This increases the probability of falling foul of a clumsy tackle or accidentally raised ball and therefore can lead to an increased chance of injury. As a result it is advisable that junior players also consider taking precautions and purchasing a protective glove. There are a number of gloves that are available in smaller sizes and are perfectly suitable for junior players. Listed below are a few gloves specifically aimed at junior players. However, many of the gloves we have listed above in this guide will also be suitable for younger players at the smaller sizes. 
Do I need a Glove?
Whether you need a glove is likely to be a personal preference, based on the above considerations. However, your playing position might also be a factor in deciding whether or not to purchase a hockey glove or gloves. Here are a few suggestions based on your playing position.
Attackers
As an attacker, you will likely want a good range of movement in your stick hand and be able to react quickly to chances that come your way. A fully padded, bulky glove might be more restrictive than you would like or need. You're probably more likely to be taking shots on goal than running them down, so there is likely to be less chance of taking a stray ball on the hand than in other positions. You are also going to be spending less time making tackles than some of your teammates.  You may also find in some games that you are a little isolated and see less of the ball, giving you less opportunity to keep your hands busy and warm. You might therefore want to consider skin/weather gloves – perhaps one that offers some gel padding or similar. If you are after a little more protection then a knuckle glove will give you some padding whilst retaining movement.
Midfielders
Although wingers have different roles to central midfield players we have grouped midfielders together for the purposes of this article. As a midfield player you're more likely to be making tackles and getting yourself in the thick of things. You could well find yourself in or around either team's D and therefore might be likely to take a loose ball to the hand. You're going to want a good degree of movement in your stick hand, to make quick tackles and to take, dribble with, and distribute the ball quickly. Taking all these factors into account, it would be worth considering a thumbless, full hand protection glove.
Defenders
In open play you will be making tackles, both inside and outside of the D as well as running down and defending shots on goal, increasing the chances of an impact injury from either stick or ball. Aside from times when a quick release ball or clearance is required, you are probably likely to have a bit more time on the ball when in possession and so will perhaps not require as much in the way of quick hands as midfielders and attackers. Add to that the fact that you will probably be facing short corners and your role is quite a dangerous one. We would recommend that you consider a fully padded glove for at least your left hand. Whilst a right handed glove might be overkill for open play, you might want to use one for short corner routines, especially if you are playing at quite a high competitive standard.
Goalkeepers
Unlike outfield players, gloves are mandatory for a goalkeeper. We will be adding a custom buying guide for goalie kit soon, so check back with us.