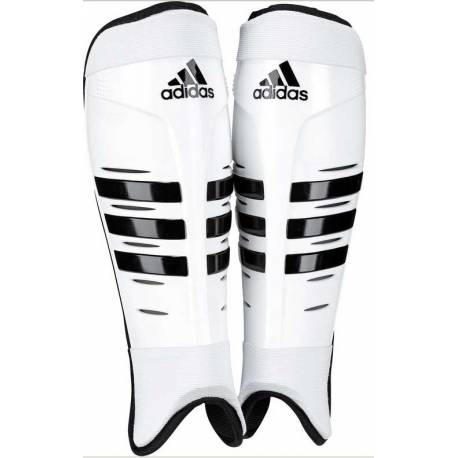 The rules of hockey make a recommendation on wearing shin protection. Some leagues may even take this a step further and require players to wear appropriate protection on their lower leg. However, even though in many cases players are required to wear shin pads, it would be a foolish player who would choose to play a competitive game without them. This guide aims to equip you with all the information needed to make an intelligent decision on the top rated shinguards that are right for you, based on both price, quality and performance.
Why Wear Shin Pads?
Anyone who has played or watched competitive hockey – or even attended a training session should fully understand why field hockey shin pads are necessary, even if they are not mandatory. We have discussed the pros of wearing a hockey glove in another guide, but shin pads should be considered a definite piece of kit. A hockey ball is notoriously hard and it does not take much for it to be raised to shin height. If hit hard enough it can cause some serious damage to an unprotected leg! Add to this the chance of taking a hit from the stick of an opponent and you will quickly understand why shin guards are essential in the game of field hockey.
Hockey vs Football Shinpads
Many players taking up hockey may be more familiar with football shinpads. As we have already mentioned, shin pads are not mandatory in many cases, which means that it would be feasible to wear football shinpads in a game of hockey. However, we would strongly advise against this. Football shinpads are often smaller, covering less of your lower leg than custom hockey ones. In addition, they are not as well padded or made of plastic as strong as hockey shin pads. They rarely offer the level of protection, particularly around your ankle, that hockey pads do. We would always recommend purchasing proper hockey shin pads to make sure you have the level of protection that you need.
How To Wear Hockey Shinpads
There are different styles of hockey shin guards, which will make a little difference to how you wear them, and people obviously have different personal preferences. However, this is a method that I find works best, to keep shin guards in place and comfortable.
Put on one pair of

hockey socks

, pulling them as high on your leg as they will go.

Place the shin pads over the socks, positioning them so they fit comfortably and cover your leg and ankle.

Fold down the top of the sock over the shinpads.

Wear a second pair of hockey socks over the shinpads, tucking the top of these socks under the shinpads and first pair of socks!
This should prevent your pads from coming loose during a game, without the need for any strapping. It also prevents them from rubbing or feeling uncomfortable as the first pair of socks gives a bit of a buffer.
Different Types of Shinpads
There are primarily two different types of shin pads that are currently available to purchase. The most popular type is a standard hard plastic shin pad. There are plenty of different brands that are selling a product like this. There are, however, a few variations of this product. The basic version is not too dissimilar to a football shinpad, but tends to be slightly larger and made of a harder plastic. The next model up is a rounded piece of hard plastic, with a fairly thin foam interior. It has a bit of flexibility so it holds in place around your leg. It offers a decent level of protection, but might not be the most comfortable shin pad.
There are versions of this design that come with a strap. Personally, due to the way I wear my shin pads, as discussed above, I have never felt the need to use pads with a strap. However, if you find that your pads come off quite often, or slip to a position that is more uncomfortable, then a version with a strap might be better for you.
A slightly more advanced option is one with an ankle sock. Again, this might keep your shinpad in place a little better. However, the main advantage of this style is that you are guaranteed protection around your ankle. Some shinpads without this option might not sit quite right around your hockey shoes and so might leave some of your ankle exposed – not the case with an ankle sock pad.
The other main type of shin guard is a contour padded one. Usually made from a foam material rather than hard plastic, these are basically a lot more flexible and offer padding rather than a hard layer of protection. These have become much rarer in recent years as the bulk of the market has been dominated by hard plastic pads. This is simply because the harder plastic offers a better level of protection over time than the pure foam pads, which can be less effective over time in absorbing impacts. There are some options about if you truly have your heart set on this style of shin guard, but I would definitely recommend that you look for a hard plastic version for the best level of protection. As a result, we haven't reviewed these types.
Other Considerations
One other thing you might want to think about when purchasing shin pads is how easy they will be to wash, considering how sweaty they are likely to get. If you're hoping that the same pair of shin pads will continue to last you for at least a few hockey seasons, you will need to ensure you take care of them. Wearing socks as a layer between your shin and the pads, as described above, will avoid them getting overly sweaty, but won't protect them entirely. The basic hard plastic pads with a foam interior can be hand washed if careful (though avoid using very hot water as the glue fixing the foam may be compromised). However, if you pay just a small amount more, you can get shinpads with removable, machine washable sections which means their maintenance is a lot simpler.
Shin Pad Sizes
Check the manufacturers or specific brand sizing guide when purchasing to get a proper idea of the size required. However, the below can be used as a guide for purchasing shin pads in the UK – especially if the supplier you are purchasing from doesn't have a size guide!
Measure from the top of the ankle to just below the knee to get your size.
Senior Shinpads
| Size | Shin Length (cm) | Shin Length (inches) |
| --- | --- | --- |
| S | 28 | 11 |
| M | 30 | 11.8 |
| L | 32 | 12.6 |
| XL | 34 | 13.4 |
Junior Shinpads
| Size | Shin Length (cm) | Shin Length (inches) |
| --- | --- | --- |
| XXS | 19 | 7.5 |
| XS | 21 | 8.3 |
| S | 23 | 9.1 |
| M | 25 | 9.8 |
| L | 27 | 10.6 |
Shin Pads For Indoor Hockey
The FIH rules of indoor hockey strong recommend wearing protective gear, including ankle and shin protection. It is therefore generally advisable to wear the same level of protection for indoor field hockey as you might for outdoor matches. As a result, our recommendations for shin pads are the same for both versions of the game.
Best Hockey Shin Pads
Hopefully you now have an idea of what you're looking for from a shinpad, so here's a list of some of our favourites.
Shin Pad Inner Socks
Although it works fine just to use a thinner pair of hockey socks under your shinpads, there are specific inner socks for use with hockey shin pads which are more breathable, thinner and offer a better fit. Here are a couple of popular options;
Hockey Inner Socks For Kids
Hockey Inner Socks For Adults
Hockey Inner Socks For Girls/Women


Best Hard Plastic Hockey Shinpads
As mentioned earlier in this buying guide, these are the shinpads to go for in order to get the best level of protection when playing hockey.

Best Hockey Shinpads for Children & Juniors
These are the best options that we could find for hockey shin pads for juniors.

Best Hockey Shinpads for Women and Girls
Here are some good options for girls hockey shin pads as well as shin guards for women.