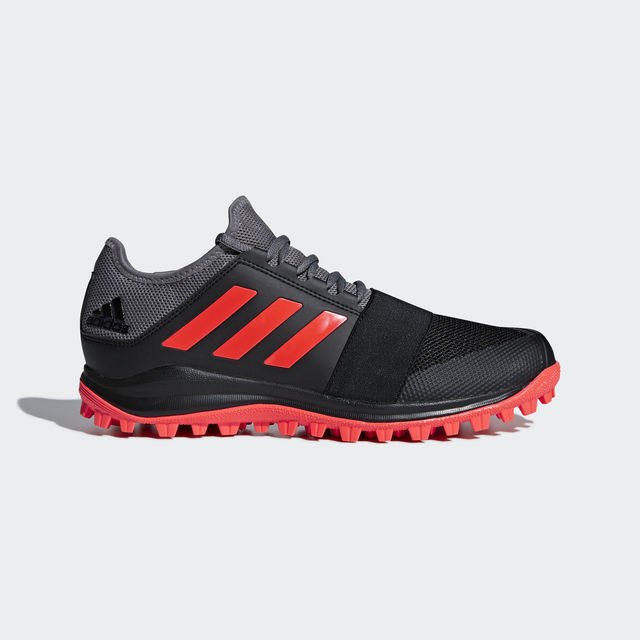 Your field hockey shoes are probably your second most expensive piece of kit next to your hockey stick. Finding the best field hockey shoes is therefore essential to ensure that you're not wasting money. Getting the right hockey shoes can also help to raise your game. In this article, we will explain how and also help you to decide on the right shoes for you from the many different types and brands that are on the market today.
Why Wear Field Hockey Shoes?
First let us look at why you would want to purchase shoes that are specifically designed to wear when playing field hockey, as well as the different types of hockey shoes that are available today. At first, hockey shoes may appear similar to football shoes. However, there are some characteristics that set them apart.
Footballers may have to deal with the odd hard tackle or an opponent's boot to their foot, so football shoes do have some level of protection. However, in hockey there is a strong chance of being struck hard on the foot with either a stick or a ball. Both of which could be moving at a considerable pace. As a result, hockey shoes tend to have more substantial protection to protect your feet and prevent injury. This is a crucial reason why specific field hockey shoes are beneficial over football shoes.
In the UK at least, most hockey league matches are played on astroturf. There are some pitches both in leagues and at some schools that do still play on grass. However, this means that most likely you will be requiring astroturf hockey trainers. The main difference between grass and astroturf trainers is in the grip on the soles. Trainers or shoes for grass will have long blades or studs that will dig into turf and give traction and grip on grass. These type of shoes should not be worn on astroturf or artificial grass as they can dig in too much and damage the surface.
In contrast, astroturf trainers have many more studs that are shorter. These give some ability for the shoes to dig into the astro but do not cause damage to the turf like grass trainers will. Field hockey shoes will allow you a lot more grip and traction than normal trainers which lack these studs. As a sport, hockey is fast moving and often can require quick feet to make a rapid change in direction. This might be to intercept an opponent or to dribble around an incoming tackle. It is for this reason that a good grip on your footwear is important.
In addition to these two points, field hockey trainers will also need to offer a good level of support, be comfortable to wear and be durable. The nature of the game means that your shoes will need to cope with a lot and you will not want to get blisters from uncomfortable shoes that rub. Nor will you want something that will fall apart after just a short while, or which will not provide the level of cushioning or protection that you need.
What Makes The Best Field Hockey Shoes?
Protection
You don't have to play hockey long to experience a hard hit to the foot from either a well struck ball or from an opponent's stick. Even with well padded hockey shoes a strike to the toe can still be incredibly uncomfortable. But without the right level of protection it could be a whole lot worse. As one of the crucial reasons that we would recommend competitive hockey players of all levels purchase appropriate, field hockey footwear, this is a top priority when looking for the right shoes. Broadly speaking any player on the pitch could take a whack to the foot so position doesn't have a massive role to play. That being said, if you're a defender who runs down short corners then you may want to make sure you're looking for footwear that offers maximum levels of protection. The vast majority of footwear made specifically for field hockey has sufficient levels of padding. When looking at field hockey shoes you will want to pay particular attention to the level of protection around the toes.
Grip, Traction & Manoeuvrability
Let's face it – you're not much good to your teammates if you spend half of the match falling over. If you don't have adequate grip on your hockey shoes then this can be an issue. Especially on water based pitches, or particularly wet and rainy days! There are a vast array of different types and configurations for tread on field hockey shoes, so take a close look and determine whether it will be adequate. My preference is generally for bladed treads rather than more simple points. Manoeuvrability and the traction that hockey astro trainers will offer is another consideration. You're likely aware that hockey matches are fast paced and end-to-end, so you need to be able to turn on a sixpence and get moving in the opposite direction at speed. Quick changes of direction are also a great way to beat an opponent. This is all made much more difficult if your footwear doesn't offer a good level of manoeuvrability – which can be as much about support around the ankle, heel and toe as it is about the tread. Good support will ensure you can quickly change direction without twisting your ankle.
Comfort & Support
We all want to be comfortable when playing and don't want to deal with trainers that will rub or cause blisters. That means it is vital to ensure that whatever field hockey shoes you buy are comfortable to play in. Look for shoes that have a good level of cushioning or padding internally and have sides that won't rub on your ankle or heel. Any pair of shoes or trainers will likely require a little wearing in for them to truly feel right. The best advice is to wear them around the house, or wear them plenty in training sessions before playing competitive matches with new shoes.
Durability
Finally, you probably don't want to be replacing your shoes all that often. This means you need a pair that are pretty durable and will last you at least for a few seasons. Generally speaking you will get what you pay for, so a cheaper pair of hockey shoes will likely not last you as long as a more expensive pair. Our advice would be to stick to brands that are known for great hockey products, and that is what we have highlighted in our reviews later in this article. Hopefully you will find our recommendations to be for durable products that will last you a long time.
Field Hockey Shoes Brands
There are a number of hockey brands that make field hockey shoes, designed specifically with hockey in mind. If you're playing competitive hockey then, as we have already pointed out, we would always recommend that you purchase field hockey shoes rather than simply making do with a generic pair of trainers. Here are a few of our top recommended brands to take a look at for hockey equipment.
Adidas: One of the more widely recognised names in the general sport equipment world, Adidas are also renowned for their hockey equipment. They produce all manner of hockey gear from sticks right through to shoes and their products are used by many international hockey players the world over. They are definitely one of the top brands and their products should be given serious consideration.
Grays: Grays is a UK based family business that has been trading for over 160 years. As manufacturers of sports gear they specialise in equipment for netball, cricket, rugby union and, of course, hockey. They are another company who is well known and respected by hockey players both in the UK and abroad and are well worth considering.
ASICS: ASICS are specialists in sports footwear and are particularly known for their running shoes. However, they also have ranges of trainers and shoes that are designed specifically for different sports. ASICS therefore truly know footwear and are therefore worth considering for their hockey shoes.
Dita: Dita is another hockey specialist. The brand is based in the Netherlands – and we all know the Dutch know their hockey! Dita make all manner of hockey equipment from sticks to shoes, bags, shinpads and other accessories. They have a good range of shoes that are ideal for all levels of players.
Kookaburra: This is another family owned sports company specialising in cricket and hockey and has been running since 1890. Kookaburra are also known across the world for their hockey gear, and come from another country who really knows hockey – Australia. Definitely a brand worth looking at for all manner of hockey equipment, including field hockey shoes.
Field Hockey Shoes Reviews
Now you know a little of the background of why a great pair of hockey shoes are essential, let us jump in to our breakdown of the best shoes.
Best Field Hockey Shoes For Men
Top Pick Field Hockey Shoes For Men
adidas Divox Hockey Shoes
Adidas Divox 2020 – Grey
Adidas Divox 2020 – Ink

This is our top pick for men. This shoe has a mesh outer layer which makes it both lightweight around the top whilst also ensuring it is breathable to limit unpleasant odours. The outer material is synthetic foil coated which protects against both water and also against impact giving a decent layer of protection. The toe, as you would expect, has a good level of reinforcement to keep you safe in the event of a ball strike. The outsole gives great grip enabling you to stay on your feet under the most slippery of conditions, whilst retaining the ability to make quick and sudden changes in direction. These hockey shoes are highly rated and are our current favourite. They are available in both black and red, and yellow and white versions, both of which are listed below.
Best Value For Money Field Hockey Shoes For Men
Our best value pick is these ASICS shoes. The retail price is generally lower than that of the adidas Divox, but the performance does not let you down. As with the Divox there is a breathable upper layer, though less so than with our top pick. The various elements of safety cushioning are also pretty solid and the level of grip and manoeuvrability are not far behind the Divox – though the tread is not quite so comprehensive so you may notice some difference on water based pitches or particularly wet matches. It also doesn't have quick the same sleek and stylish design as the adidas shoe, but does a pretty good job.
Best Mens Field Hockey Shoes For Under £50

This is our budget pick. These shoes are from the 2017 range, hence the generally lower price point, but if you're not concerned about having the latest styles and if you're not wanting to splash out in excess of £50, you could do a lot worse than the Kookaburra Origin. This is a lightweight shoe but it doesn't skimp on padding. Grip and traction are both pretty good. And to be honest, you can't go far wrong for this price.
Best Field Hockey Shoes For Women
Here we break down the best women's hockey shoes and trainers currently on the market. These women's hockey astros are our top picks for the current season. Our recommendations include the top overall women's field hockey shoes as well as the best value for money, and best women's hockey shoes for under £50.
Top Pick Field Hockey Shoes For Women

Our top pick for women is this pair of Adidas shoes. As with our men's top pick, these shoes have a mesh outer layer to keep the shoes breathable as well as lightweight and flexible. Synthetic foil coating makes them waterproof and gives additional support and protection. The shoe tongue and collar are padded for comfort and the frame gives solid support around the ankle. The bottom has a grid structure with studs for improved grip and superior multi-direction control. This shoe was a clear favourite for women from our testing.
Best Value For Money Field Hockey Shoes For Women

With our value for money pick we are looking for something that performs better than you might expect from its price tag. As ASICS are a sports shoe specialist it is probably not a great surprise to see them listed here. This shoe gives a good level of grip and the protection is more than adequate. However, where this shoe excels is comfort. The gel cushioning in particular provides a good level of comfort when playing and this shoe requires much less 'breaking in' than some other shoes on the market.
Best Womens Field Hockey Shoes For Under £50

With the budget pick it is important to select a field hockey shoe that performs well but at a lower cost. That is exactly what we found with this Kookaburra shoe. It makes an impression style-wise. Although that's not the crucial factor in purchasing a shoe, we do all want kit that is well designed and stands out. These shoes are sturdy and comfortable with a good level of protection. The grip and traction that they allow is also pretty good. If you're looking for a decent pair of field hockey shoes for women on a relatively low budget then these are a great choice.