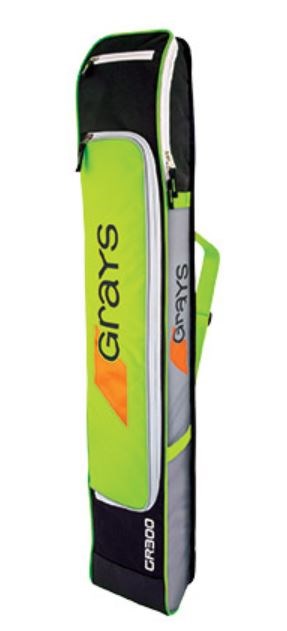 If you're here to browse for a new stick, glove, shinpads or other kit then you will probably also want to consider a stick or kit bag to keep it all in. There are some great options out there, whether you're looking for a simple cheap hockey stick bag that will just contain a single stick, or need something to also keep all of your kit in.
Why Get A Hockey Stick Bag Or Kit Bag?
Hockey stick bags can serve more than one purpose – although this does depend a little on the type of bag that you choose. You may primarily want to consider a stick bag to make it easier to carry your stick and/or kit to training and matches and to keep it protected. In this case, a small hockey stick bag would be suitable. However, if you're looking for something that will let you also make it less of a chore to transport your change of clothes, towel, balls etc then you will need to consider a larger stick bag or a hockey kit bag.
Types Of Hockey Stick Bag
The first and most basic type is the single stick bag. This will basically only allow you to store a single stick. It will have a shoulder strap so you can carry your stick whilst keeping your hands free. It will protect your stick from the elements when it is not being used but it is pretty basic. This option is ideal for a beginner player who only has one stick to worry about. It's also great as an affordable but basic option if you're not looking to spend much money for an easy way to carry your hockey stick.
The next step up is a stick bag that can hold multiple sticks. Most intermediate players who have been playing for a few years or more will have collected a few more sticks and will likely want a stick bag that can keep them all in one place. I always find that it is a good idea to take a spare stick to a match as you never can tell what might happen. Often these types of hockey stick bags will have space for balls and can also take some kit being shoved into the bag as well – but don't have separate compartments for kit. They do sometimes have a small zip pocket for your phone, wallet, keys etc. However, if you take a change of clothes or lots of extra kit then you might also need a separate backpack.
The next type of bag is one which is designed to hold both sticks and kit. As well as being of a shape and size to hold (often multiple) sticks, this bag also has additional compartments which are designed to hold your kit (socks, shorts, change of clothes etc). It's similar to the multiple stick bag except for this feature. This bag will be slightly bulkier than the others but you will be more likely to be able to keep all your kit confined to this single bag, meaning no need to carry a backpack or additional bags.
Of course there is also a standard kit bag, but these are rarely long enough or well suited to also contain sticks. However, if you tend to take a lot of kit to games but only one stick, this might be something to consider. As mentioned above, you could consider a basic backpack. There are also custom hockey backpacks that will let you strap on a stick to make it easy to carry.
A personal preference of mine is definitely for a stick bag large enough for several sticks. I have usually got by with just a hockey stick bag that can carry a few sticks and a separate backpack for extra kit.
Hockey Stick Bag Reviews
Here is a breakdown of the best hockey stick bags from our testing.
Single Stick Bag
As mentioned above, these are the most basic type of stick bag and there is not a great deal to choose between them. Pricing is pretty similar between these single stick bags.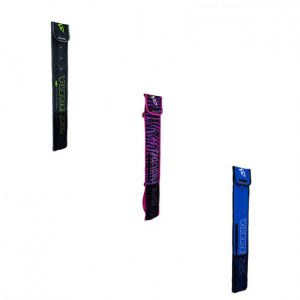 This stick bag can carry a single stick and has a few additional compartments which can come in handy for carrying gumshields and/or gloves. There is one zip pocket and a mesh pocket. It has an adjustable shoulder strap and there are poppers that allow you to slightly adjust the length of the bag, so it is suitable for both junior and senior players.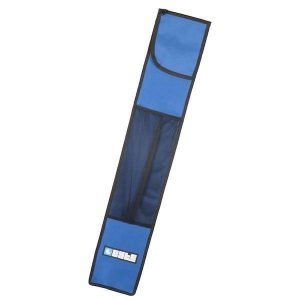 This single stick bag has a shoulder strap and a mesh pocket on the front for storing small items of kit (gloves, gumshields etc). It is available in both pink and blue so is perfect for male and female players, and particularly good for junior players.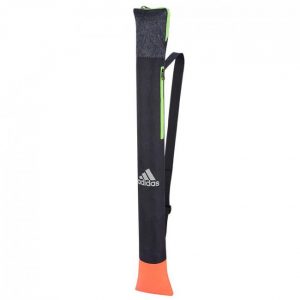 This Adidas VS2 stick sleeve has an adjustable shoulder strap, a small valuables pocket and a water repellent base fabric. The main stick section zips closed and has room for a single hockey stick.
Multiple Stick Bag
More regular players may want to consider a stick bag that will hold more than one stick. Maybe you have a stick for training and one for matches – or perhaps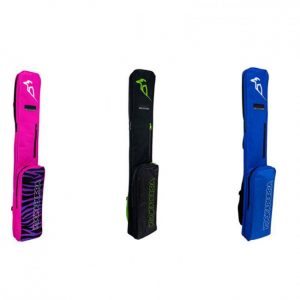 A decent stick bag that allows you to carry 2 or 3 sticks with some additional room for some kit and accessories in two specially designed pockets.  There is an adjustable shoulder strap, a mesh pocket for a water bottle or shin pads and a pick up handle at the top for an alternative carrying option.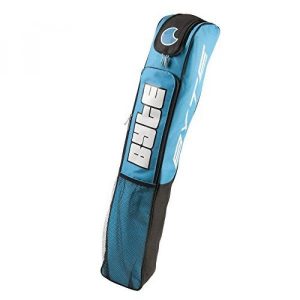 This Byte stick bag can hold up to two hockey sticks. It comes in a number of different colour options. It has a shoulder strap and a mesh pocket on the front. It is a good size that will allow you to put a small amount of kit into the bag as well.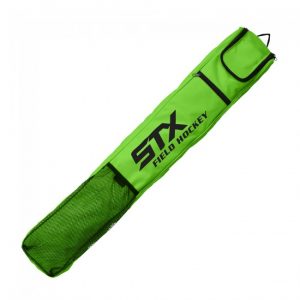 This hockey stick bag comes in a wide range of colour choices. It is large enough to hold multiple sticks and the mesh pocket can hold other kit. The main downside to this bag is that the opening to the main part of the bag is only really large enough to fit a stick, so you won't be able to fit shoes or shinpads into the main part of the bag.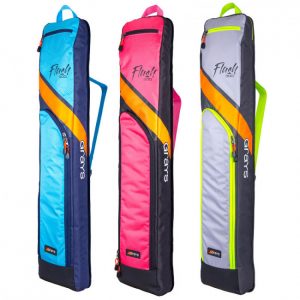 A multiple stick bag option from Grays. The Flash 300 is suitable for carrying 2 to 3 sticks, a large front pocket that is a great option for storing additional items of kit. There is also a valuables pocket. This is a good quality stick bag that is a great option for any regular player which comes in a range of colours.
Stick & Kit Bags
If you're looking for something that will keep all your sticks and kit in one place, a combined stick and kit bag is the perfect solution. Below are some great options for this type of stick bag.

As a larger bag, this Byte stick and kit bag has a double shoulder strap so can be worn more like a backpack. It has a large stick compartment and two large front pockets that can be used to store kit. It also has a small pocket that is great for valuables, and an external mesh pocket that can be used to store shinpads.

The Grays 7000 stick and kit bag can keep 4 sticks secure, with elasticated loops to keep them in place. It has two shoulder straps to make it easy to carry and a number of further storage compartments to keep all your hockey kit safe and secure. It is available in both blue and pink.

This stick bag is slightly smaller than some of the other stick and kit bag options and but still comes with a double shoulder strap. It has a stick compartment for 4 sticks, and three additional storage areas for kit, plus an exterior mesh pocket for shinpads and gumshields and a glove attachment system too.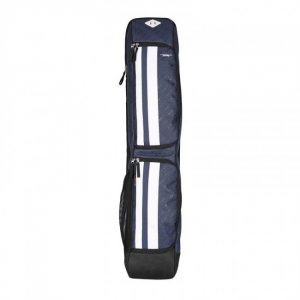 This stick and kit bag option from TK is a good choice for a lightweight and affordable option. It is slightly smaller in size than some of the others so you may not be able to cram as much kit inside, but it has a large stick compartment plus two deep front pockets. This bag also has a single shoulder strap.
Hockey Backpacks and Rucksacks
A decent hockey backpack can be an option to allow you to carry additional kit if you only have a stick bag that will hold sticks and not your extra kit or change of clothes. However, there are a number of custom hockey backpacks on the market that will not just hold your kit, but will let you strap on a stick as well. These tend to only be able to hold a single stick, so may not be the best option if you want to take more than one stick with you, but otherwise a hockey rucksack is a really nice choice!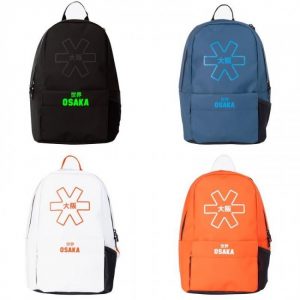 One of the more stylish hockey backpacks, this Osaka Pro Tour compact hockey stick backpack lets you carry your stick in a custom stick sleeve. It also serves as a standard backpack with a main pocket, front valuables pocket and a mesh pocket on the side. It has a good amount of storage space and a nice design.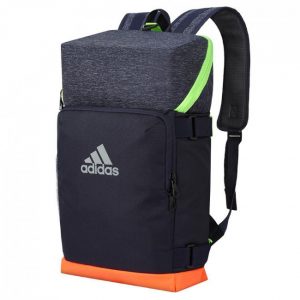 Well known for sports gear and nowadays a very strong hockey brand, this Adidas bag has some vibrant colours with a nice design. It comes with a velcro side strap to attach a single stick, a large compartment that also has a laptop sleeve – making it great for general use also. It has a front pocket, a valuables pocket on the top and a mesh side pocket. It has a comfortable, padded back and straps and the base fabric is made from water repellent material. An all round good choice.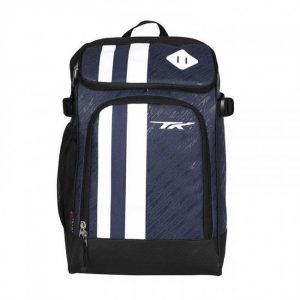 What we really like about this TK hockey stick backpack is the different colour options that are available. With choices of black, green, navy and red, there is bound to be a colour to suit most tastes. Your hockey stick will fit into the stick pocket which houses a retractable stick tube to ensure your stick is kept safe and the backpack is comfortable to wear.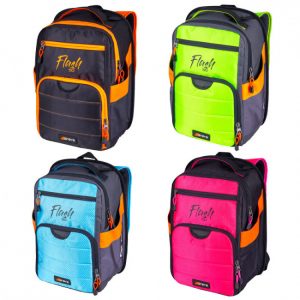 The Grays Flash 50 hockey stick rucksack is a bit of a statement piece, with a choice of vibrant colours. It has a hidden holder for your stick as well as a number of zipped storage compartments that are multi functional. It has a good capacity, padded back and front shoe storage.