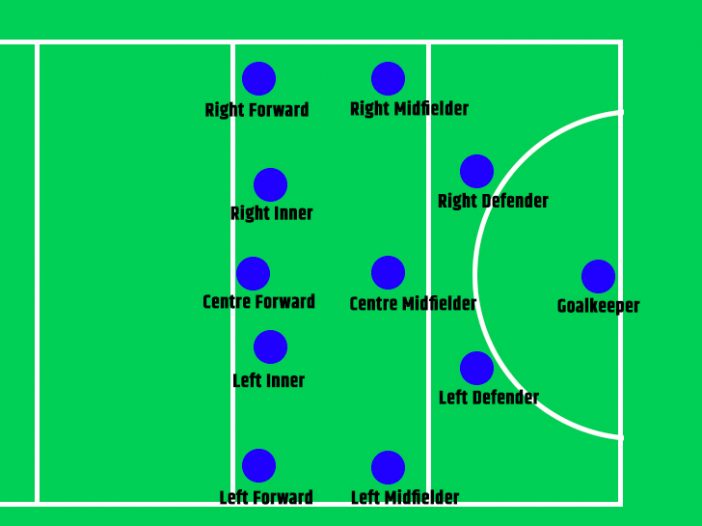 Field Hockey Positions
Field hockey is a team game with 11 active players on the pitch, plus substitutes. That means there are 11 hockey positions, which we will break down in this article. Hockey is a fast paced game and requires players to have good levels of fitness and agility. Play can quickly switch from one end of the pitch to the other, requiring field hockey players to be on their toes and ready to react instantly. 
Unlimited substitutions in hockey means that they tend to take place quickly and often. This generally means that players have to be quite fluid in their positions as they are likely to substitute back on to the pitch in a different position from their previous one. Consequently this means that many players will require a mix of offensive and defensive skills that allow them to quickly adapt to being in a different position on the hockey pitch. 
Field Hockey Formations
Before we give an overview of the positions, it is useful to take a look at common formations in field hockey. 
Whilst the formation shown above has typically been quite popular at higher levels (often called 5-3-2-1, the '5' referring to the offensive line.), the formation that has been prevalent on the international scene in recent years, as well as popular at club level is the 4-3-3 formation, and variations thereof. This means 4 defenders, 3 midfielders and 3 forwards. At lower club levels variations of 4-2-2 can also often be popular.
Positions Overview
There is only one goalie on the field at any one time. The goalie wears significant full body padding to protect them as a hockey ball struck at pace can do some serious damage. From pads for their feet to a full face helmet, goal keepers are well protected. 
It is possible for a team to play without a goalkeeper and instead to have an additional outfield player, known as a 'kicking back', who wears a bib to distinguish them. Use of a kicking back tends to happen late in games where a team is behind and is chasing an equaliser as it gives them an outfield man advantage. However, it can be a risky manoeuvre as although the kicking back can use their feet to stop the ball in the 'D' they are without the full padding of a goalkeeper and therefore will be likely be unable to stop a well struck shot on goal.
There are a number of different positions within defence and where and how you play the role will depend on the formation and strategy of your team. As a result, we will not try to cover precisely what would be expected of each role. However, the basic positions and overview for defensive positioning is as follows;
Fullbacks; generally have strictly defensive responsibilities and would not often be expected to contribute to attacking play. Instead, they would remain back to provide an outlet and a switch across the pitch if needed. When defending they would generally be expected to man mark the highest opposition forwards. 
Wingback; a similar role defensively to a fullback, but these wide players would be expected to work down the wings on offensive plays to give greater width on the attack. Wingbacks would generally look to be higher up the pitch when attacking than fullbacks, but would also need to get back and defend when the opposition is attacking. Wingbacks should look to pick up opposition wide players. 
Centre back; This central defender takes responsibility for marking the opposition centre forward and generally defends quite deep. The centre back will look to clear the ball when in possession rather than contribute to attacking play. He may also remain deep as an anchor during offensive play. 
Sweeper; The sweeper is most often used in place of a second centre back, or as a versatile defensive player alongside two fullbacks if playing a back line of 3. The role of the sweeper is to challenge opposition players who break through the defensive line. They will therefore generally play quite deep, stepping up to meet opposition players running with the ball. Sweepers may also be expected to play the ball out of danger and play a little higher when play is moving out of the defensive zone. 
We have given this a separate position as this player fills a role somewhere between defense and midfield. Halfbacks can contribute to attacking plays but depending on the opposition formation might also be expected to mark opposition players coming through from midfield. They will ideally sit between the defense and midfield, moving fairly fluidly between the two zones as needed. Whilst halfbacks have been quite popular in top level play the role is generally used less at lower club levels, with more clearly defined defense and midfield positions often preferred.
As with defensive positions, there are a number of different ways of setting up a formation and different roles for midfield hockey players. What will define your actual positional play is how your team lines up, how they require you to play, and also the formation and skillset of opposition players. 
Inside; also sometimes just known as 'inners', the inside-left and inside-right players play a central role slightly to their respective sides and relatively high up the pitch. They tend to be attacking midfield players and are responsible for helping to build the attack and support the forward(s). When defending, they will cover and mark positionally to cut out passes through the centre.
Wide Mid; wide midfielders will generally be used in place of attacking wingers. The role is much the same but wide midfielders will be required to be more defensively minded and track back to mark opposition players when on the defensive. They should remain wide as an outlet when their defense has the ball as an option to spread the play. Wide midfielders should be able to attack down the wings with pace, driving deep into the opposition half when on the offensive. Responsibility for marking and defending will likely depend on the formation being used, but the wide midfielder may be required to track back and mark the opposition wingers, wide midfielders or wing backs. 
Centre; a centre midfielder is a real workhorse. They should have good awareness and fitness as they will be required to both support attacking play and assist in defending. A centre midfielder in hockey should be able to hold up the ball and look to intercept and zonally mark the centre of the pitch to prevent opposition breakaways.
Defensive/Holding vs Offensive; depending on your team formation or strategy, you mind find yourself playing any of these midfield positions with either a defensive or 'holding' mentality or an offensive/attacking one. A holding midfielder will be expected to sit deeper than the rest of the midfield, offering an extra line of support in front of the defensive players whilst also providing an outlet pass when attacking. Offensive midfielders would be expected to be an outlet when moving the ball out of the 'D' and to move to a threatening attacking position when on the offensive. 
Finally, the forwards or strikers. This is more clear cut with forwards generally not expected to come all the way back to their own D to defend.
Wingers; the right wing and left wing players are essentially a more advanced version of the wide midfield. Wingers are popular when playing 3 up front, with the wingers supporting an out and out centre forward. Wingers are expected to be in a wide position to receive the ball and look to create goal scoring chances when on the offensive. They will step across to cover the centre of the pitch when defending and will put pressure on the opposition midfield and defense. 
Centre Forward; the centre forward is expected to remain in a central role and to create and take advantage of goal scoring opportunities. As with the wingers, they will have less of a defensive role, instead looking to prevent the opposition from having a clear break through the middle of the pitch, and dropping back to provide an outlet pass for a quick break if and when their team regains the ball in their defensive area.